Training Design & Delivery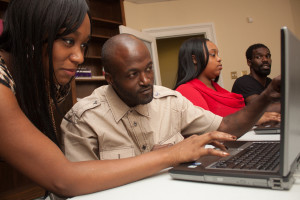 Continuous investment in training and professional development of employees leads to Return on Investment and increase in market value. To ensure our clients remain competitive in the marketplace, we design and facilitate training programs to enhance business performance, improve productivity and ensure customer satisfaction. We do so by defining core competencies and developing your staff with the
necessary skill sets to meet your company objectives.
Use the tabs to view more information.
Performance Management Training is designed to :
Improve your company's bottom line through better employee retention
Promote organizational growth with measurable performance outcomes; and
Enhance productivity, customer service job satisfaction.
Performance Management Tool Kit is designed to:
Serve as a comprehensive corporate analysis of your performance management philosophy,standards, and practices.

Provide performance appraisal consultation to determine employee satisfaction and their understanding of the job they were hired to do.

Offer performance management training for executives, managers and supervisors, line staff and new hires.
KPS Administrative Skills Training is accepted by PACE (Professional Administrative Certificate of Excellence)
Our core competencies include, but are not limited to:
Mastering the Role of an Administrative Assistant

Interpersonal and Customer Service Skills

Project & Task Management Skills

Management and Organizational Skills

Essential Writing and Oral Communication Skills

Office & Digital Technology

Records Management

Microsoft Office Skills Training & Certification